Morse Fellows
Morse College is a vibrant community. We would love to count you among us. The Fellows meet a few times per semester at the Head of College's house, to interact with friends from all parts of the University and from the broader community. Many play the role of Advisor for a student or two. We extend invitations to student functions such as performances and college-wide social events, welcome participation at intramural sports, provide dining privileges in the college at lunch or dinner, all so you can meet with students, faculty and friends. Please join us - we welcome you!
Assistant Director of Admissions
Biography
Daniel Edeza is an Assistant Director of Admissions at Yale. He received a B.A. in History from Yale in 2010 and an Ed.M. in International Education Policy from the Harvard Graduate School of Education in 2011. Prior to joining Yale's admissions office, Mr. Edeza spent a year teaching English at El Centro de Investigación y Docencia Económicas in Mexico City as a Fulbright Scholar and volunteered as a research assistant at Innovations for Poverty Action.
As a first-generation college graduate, his passion in college admissions lies in increased access for underrepresented populations and the dissemination of scholarship information to low-income students. He is an avid runner and enjoys discussing history, politics, social inequality and food. 
Interests:
Mr. Edeza is an avid runner, enjoys discussing history, politics, social inequality and food. He is also interested in education (general), and travel. 
Offers assistance in:
Connecting students to internships or other opportunities
Contact Information: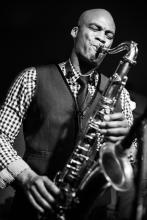 Lecturer, Yale School of Music
Biography
2014 Downbeat Critics Poll Winner and Grammy Award winning tenor saxophonist Wayne 
Escoffery is one of the Jazz world's most talented rising stars and in-demand sidemen. Since 
2006 he has been mostly associated with trumpet master Tom Harrell after securing one of the 
most coveted gigs in jazz: a frontline position in Harrell's working quintet. For the past decade 
Escoffery has toured the globe with the trumpeter, recorded seven CDs with The Tom Harrell 
Quintet and co-produced four of those releases. He has also been a member of The Mingus 
Dynasty, Big Band and Orchestra since 2000 and has made several recordings with the group.  
Over the years he has recorded and performed internationally with the who's who in Jazz
including Ron Carter, Ben Riley, Abdulah Ibrahim, Eric Reed, Carl Allen, Al Foster, Billy Hart, 
Eddie Henderson, Rufus Reid, Wallace Roney and Herbie Hancock just to name a few.  
Escoffery leads his own groups which tour internationally and has made several highly 
acclaimed studio 
recordings with said 
groups. His current 
working quartet features 
pianist David Kikoski, 
bassist Ugonna Okegwo 
and drummer Ralph 
Peterson and has a release 
on the Smalls Live R
ecord label. Escoffery is also a founding member of a collaborative group called 
Black Art Jazz Collective which is comprised of fellow rising star musicians of his generation 
and is dedicated to celebrating African American Icons through originally composed music.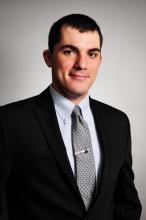 Biography
I am originally from Ledyard, CT which is an hour up I-95N in south eastern Connecticut. I graduated from Yale University in 2012 with a B.S. in Molecular Cellular and Developmental Biology (MCDB) and was actively involved in the Morse Community as the manager of the Morsel.  I was a member of the Cross Country and Track teams as a middle distance runner. After graduating I worked for a year as a medical assistant for an ENT in Stamford, CT before participating in the Advanced Core in Medical Science Post-Baccalaureate Program (ACMS) at the Lewis Katz School of Medicine (LKSOM) at Temple University in Philadelphia, PA. I matriculated to LKSOM in 2014 and was heavily involved with the student government as President of the Class of 2018 for all four years. During medical school, my research focused on Breast and Colon Cancer and I participated in the U.S. Navy Health Professions Scholarship Program. I graduated from LKSOM in May 2018 with an M.D. and as a Lieutenant (now inactive reserves) in the U.S. Navy. I began general surgery residency at Yale-New Haven Hospital in June of 2018 with plans to become a Surgical Oncologist following my military commitment. 
Interests:
Medical and Surgical Education, Surgical Oncology, Wood working, Hiking and camping
Offers assistance in:
Academic advising for freshmen, Advising and mentoring for upperclassmen, Career advising, Connecting students to internships or other opportunities
Advice and mentoring for those interested in medical school and/or military scholarships
Contact Information: