William Cafferty
---
Will Cafferty was born in Johannesburg, South Africa in 1975. His family  moved to England when he was 5 years old and settled in South London,  Wimbledon. He graduated from Wimbledon College in 1994 and then  completed a Bachelor's degree at Bristol University. He attended  graduate school at King's College London, and received a PhD in  Neuroscience studying sensory and motor dysfunction in the damaged  peripheral nervous system.
Wimbledon, more specifically, tennis, and the nervous system have been  constants in his life from an early age. Growing up in Wimbledon he attended the 'the Championships' yearly, and was elated to serve as a ball boy at the 1991 tournament. While his playing days have slowed somewhat, he still enjoys attending tournaments and playing recreationally. If not playing tennis, he can be found at the gym, or running, his father is a sub 3:30 marathoner and a friendly head to head is looming!
Will's passion, however, is studying the central nervous system (CNS). After his PhD studies, he moved to Yale in the autumn of 2004 to begin a postdoctoral fellowship in Dr. Stephen Strittmatter's laboratory to explore how and why damaged neurons fail to re-grow after spinal cord injury (SCI). Quiescence of these damaged pathways results in permanent dysfunction and therefore, clinical interventions that repair the damaged CNS are urgently required. After 4 years of studying with Dr. Strittmatter, Will received a transition award from the National Institutes of Health (NIH) and began setting up his own independent research laboratory. The Cafferty lab opened in the summer of 2010 and continues to study the cellular and molecular mechanisms that restrict axonal repair after spinal cord injury.
Soheil Ghili
---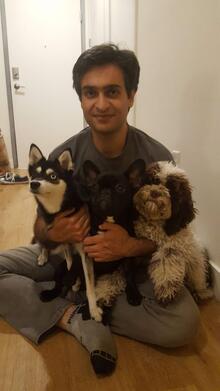 Soheil Ghili is an assistant professor at Yale School of Management (SOM). At SOM, Soheil teaches Pricing Strategy to MBA students and advises Ph.D. students in the field of quantitative marketing. Though his class is designated as a graduate level course, often students from Yale College, especially those majoring in Economics, enroll in the class. Another aspect of Soheil's job at SOM is conducting research. Like his teaching, Soheil's research is focused on pricing. He combines tools from Microeconomics and Game Theory with those from Econometrics and Statistics to help firms address complex pricing questions, leading to higher profitability on the one hand, and improve consumer and social "welfare" on the other.
Before joining Yale, Soheil lived in Evanston Illinois where he got his Ph.D. in Economics and Strategy from Northwestern University's Kellogg School of Management. And before that, he lived and studied in Iran where he earned a B.S. in Electrical Engineering and an MBA.
Soheil is an amateur biker, runner, and piano player. He listens to music from around the world and loves animals!