William Cafferty
---
Will Cafferty was born in Johannesburg, South Africa in 1975. His family  moved to England when he was 5 years old and settled in South London,  Wimbledon. He graduated from Wimbledon College in 1994 and then  completed a Bachelor's degree at Bristol University. He attended  graduate school at King's College London, and received a PhD in  Neuroscience studying sensory and motor dysfunction in the damaged  peripheral nervous system.
Wimbledon, more specifically, tennis, and the nervous system have been  constants in his life from an early age. Growing up in Wimbledon he attended the 'the Championships' yearly, and was elated to serve as a ball boy at the 1991 tournament. While his playing days have slowed somewhat, he still enjoys attending tournaments and playing recreationally. If not playing tennis, he can be found at the gym, or running, his father is a sub 3:30 marathoner and a friendly head to head is looming!
Will's passion, however, is studying the central nervous system (CNS). After his PhD studies, he moved to Yale in the autumn of 2004 to begin a postdoctoral fellowship in Dr. Stephen Strittmatter's laboratory to explore how and why damaged neurons fail to re-grow after spinal cord injury (SCI). Quiescence of these damaged pathways results in permanent dysfunction and therefore, clinical interventions that repair the damaged CNS are urgently required. After 4 years of studying with Dr. Strittmatter, Will received a transition award from the National Institutes of Health (NIH) and began setting up his own independent research laboratory. The Cafferty lab opened in the summer of 2010 and continues to study the cellular and molecular mechanisms that restrict axonal repair after spinal cord injury.
This is Will's first year as a resident fellow at Morse College, so please help point him the right direction if he looks lost!
Rebecca Toseland & Kyle Buyers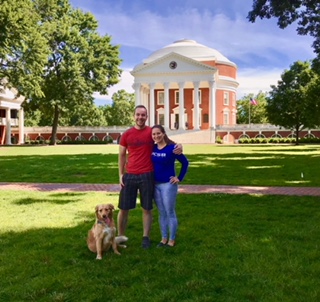 Rebecca Toseland is a Senior Lecturer in the Department of Economics and the Director of Research Support at the Tobin Center for Economic Policy. Previously, she was a Research Scholar at the Stanford Institute for Economic Policy Research (SIEPR) and a Lecturer in the Department of Economics at Harvard University. Her research and teaching interests span a variety of domestic policy issues including economic mobility, education, housing, health, and the environment. She received a B.A. in Economics and Environmental Studies from Yale University as a member of the other best residential college at Yale (Timothy Dwight – Ashé!). She also holds an M.A. in Ecology, Evolution and Marine Biology and a Ph.D. in Economics from the University of California, Santa Barbara. When she's not working, you can often find her climbing a mountain, scuba diving on coral reefs, or otherwise exploring the world.
Kyle Buyers loves to learn, adventure, exercise, spend time with dogs - and excel in business to enable these passions. He works at eBay as the Global Performance Marketing Manager for Paid Social, acquiring new users at scale worldwide. Previously he worked at HP and Qualcomm as well as several startups in Vancouver, BC, spanning a 10+ year career in Marketing. He earned his B.A. in Psychology at the University of California Santa Cruz (go Banana Slugs!), and technical certificates in Marketing at British Columbia Institute of Technology. He is a dual citizen of the US & Canada, a 2nd degree black belt in Taekwondo, and delights in numerous interests both athletic and nerdy: mountain biking, board games, snowboarding, video gaming, gymnastics, reading, martial arts, and more.
Katie Buyers is a Golden Retriever mix, though Kyle insists she's a Nova Scotia Duck Tolling Retriever. Her first year of life was a tough one - not much is known about it aside from being rescued from the streets of Mexico where she earned an impressive scar on her hind leg. But that's never stopped her enthusiasm and energy, with a particular zest for fetch and biking. If you have a treat she'll eagerly say hi, but a ball will earn her unwavering attention. When not watching Planet Earth you will find Katie with Kyle or Rebecca, who will have a ball or treat ready for you to make a new furry friend.