Morse Head of College's Office
PO Box 208249 
New Haven CT, 06520-8249
Alexa Terni Martindale
Morse College Operations Manager
Head of College's Offices-G112
Mobile: (303) 668-2767
Megan Carney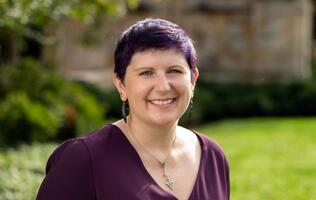 Head of College's Senior Administrative Assistant 
Morse Head of College's Office
Phone: (203) 432-0393
Fax: (203) 432-0749
Email: megan.carney@yale.edu
Before joining the Morse family in December 2021, Megan was the Program Coordinator for Yale Summer Session Programs Abroad for 11 years. Prior to Yale, Megan served as a member of the cruise director's staff on board a Norwegian Cruise Line (NCL) ship. Her love of travel was ignited after spending a term at the University of Wollongong in Australia. When she is not planning her next big trip, she is baking up a storm for anyone who asks (just do not ask her to cook)  and spending time with family and friends and her gremlin, masquerading as Papillon-Chihuahua mix, Loki. 
Mary-Ann (Mere) Bergstrom

Dean's Senior Administrative Assistant
Morse College Dean's Office
Phone: (203) 432-0397
Email: maryann.bergstrom@yale.edu
Mere has been at Yale scince 2003, and with the Morse Dean's Office since January 2017.  Mere and her husband, George, have two children, Eric and Fina both north of 25. Mere's hobbies include gardening and traveling with her family, but competition jam and jelly making is where she thrives by winning year after year. (Frequently these winnings are sampled in the Morse Offices along with her freshly baked, homemade pastries.) Mere is most at home in her kitchen, and tests recipes for magazines in her spare time. She also enjoys attending concerts of all types, but Rush is her favorite band which you can hear Mere belting out if you come into the office early.