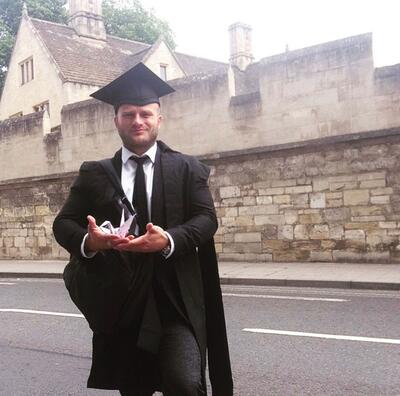 Dean Trimble has spent the last six years in the UK working and studying at the University of Oxford. In his role as Junior Dean for various Oxford colleges, he worked closely with the undergraduate student population, supporting students through the personal and academic challenges of university life. Dean Trimble also led on a variety of teams and committees including academic events, cultural events, co-curricular opportunities, and emergency response. In addition to his leadership in the college setting, Dean Trimble recently completed his doctorate in theology and religious studies from the University of Oxford. He also worked alongside professors with the Institute of Social and Cultural Anthropology in researching the intersectionality between religion and nationalism in both the "East" and the "West." Dean Trimble has also completed masters degrees from Oxford, Duke, and Regent College (University of British Columbia).
Dean Trimble also has extensive experience outside the college setting. In New Zealand, he worked at a public policy think tank as a social justice researcher, learning from leaders in the Māori communities and analyzing social statistics on vulnerable youth in Aotearoa. Dean Trimble also worked in manufacturing plants for US car companies as an environmental researcher, which involved digging through large trash bins and shipping containers looking for recyclable materials. Across the US and in Europe, he worked for a number of charities and non-profits including urban gardens, anti-trafficking initiatives, community art classes, and after school programs where he helped high school students apply for college, many of whom were first-generation college students. Also, with his research in religion, Dean Trimble has lived in several monasteries around the world, though at times, he got in trouble for sleeping in.
Though he has spent a considerable amount of time overseas, Dean Trimble is originally from Detroit. He loves talking about anything related to the history of music in his hometown, whether it's Motown, R&B, Hip-Hop, or Techno. He is a classically trained tenor and was involved in music groups at his colleges in both the US and UK, though these days he considers himself to be an aspiring karaoke artist. In Oxford, he also worked as a personal trainer, primarily teaching classes to senior citizens. Dean Trimble is easily found in local gyms talking to strangers and answering health questions, and he is very excited to help continue Morse's excellence in intramural sports. Dean Trimble also enjoys trying local food, hiking, street fairs, jalapeños, helping students think through life after university, and origami (although he can only make paper cranes).