What is a FroCo?
First-Year Counselors (aka "FroCos") are Morse Seniors chosen by the Dean's Office who live with Morse First-Years to ease the transition to the academic, social, and cultural life of Yale College. FroCos work as a team with the Dean's Office to be an additional resource to first-years for any problem or question they may have.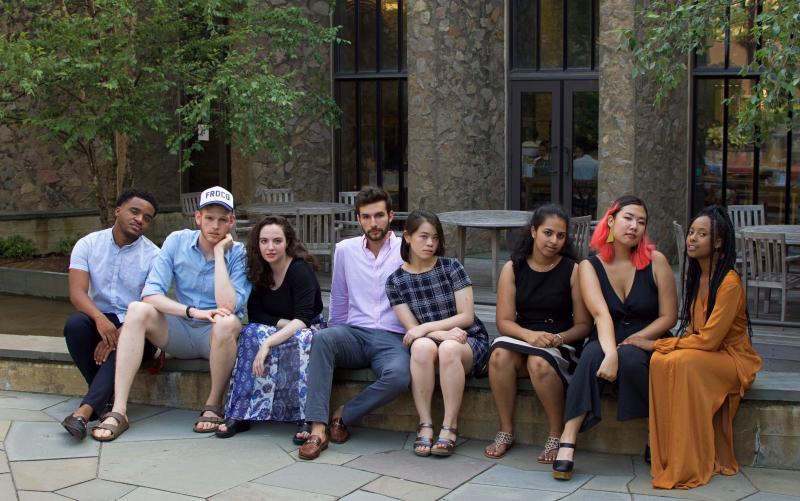 The 2018-2019 First-Year Counselors!
---
Matthew Coffin

Hello everyone! My name is Matthew Coffin (he/him/his), and I feel so lucky to be a MoCoFroCo this year! I originally hail from Marietta, Georgia. I'm majoring in Psychology but spend much of my academic time learning Spanish and Chinese. Outside of class, I'm one of the Co-Coordinators of Dwight Hall, Yale's center for service and social justice. I'm passionate about community organizing, urban education, and disability rights, and I'm a firm believer that New Haven is the best small city in the country. I also managed the Morse Buttery for two years, so I know how to make a killer quesadilla (which I can't even eat because, ironically, I'm vegan). My bike and I are an incredibly iconic duo – some of my best memories these past few years are of biking all around New Haven – exploring its neighborhoods, enjoying its delicious food, and meeting the incredible people who live here.

Eva Gerber

I'm Eva (she/her/hers), and I'm so excited to be one of your first-year counselors!  I grew up in Woodbridge, CT, with my three siblings.  I'm a Molecular Biophysics and Biochemistry (MB&B) major, and I'll be applying to graduate school in the fall.  Outside the classroom, I work in a structural biology lab and as a guide at the Yale University Art Gallery (YUAG).  In my spare time, you can find me cooking in the Morse kitchen with my suitemates or drinking a hot beverage and reading Jane Austen on the nearest couch. Anyway, welcome, Morse Class of 2022!

Xander Mitchell

Welcome to the Morse family! My name is Xander (he/him/his). Originally from the Chicagoland area, I came to Yale three years ago via Questbridge. After two years of classes and a summer and semester abroad, I decided to study History of Art with a focus on contemporary American artists. On campus, I am a tour guide at the art gallery, a tax preparer for New Haven residents, and one of the leaders of a travel journal on campus. Beyond Yale, I'm passionate about long-distance running, cooking Turkish and Italian meals, and dancing to house music late into the evening… or morning, technically. I'm super excited for another year in Durfee and for the late night conversations (and pancakes) that come with it!

Janeen Thomas

Hey y'all! My name is Janeen Thomas (she/her/hers), and I am so excited to be a MoCoFroCo this year! I grew up in Atlanta, Georgia as the oldest of three, but my family is originally from India. I'm majoring in Neuroscience, and I plan to attend medical school after college. On campus, I am involved with Yale Students for Christ, one of the (amazing) Christian fellowships. I am also doing research in a psychology lab. You can also find me studying or hanging out in the Chaplain's Office or the South Asian Studies Department. In New Haven, I mentor some incredible students with Bridges of Hope. In my free time, I love to bake and eat in the Morse Kitchen, do a face mask, or explore New Haven! But most importantly, I am so excited to meet the wonderful class of 2022!

Ashtan Towles

Hello and welcome to Yale and the Morse College family! I'm Ashtan (she/her/hers) and I was born and raised Nashville, TN (a.k.a "Music City, USA). I love music and singing and have had an unforgettable time at Yale because of it. For three years, I sang in Shades, an a cappella group that sings music of the African Diaspora and African-American tradition on campus.

For the past couple of years, I have worked in Yale Admissions as a Recruitment Coordinator. I also have a passion for studying mass incarceration and its impact on families. I'm currently studying these policy issues in the Political Science Simultaneous Bachelor's/Master's Degree program.

This year, we are all going to have an amazing time in and outside of Morse. I encourage you all to ask me and the other FroCos questions whenever you need help. I and the other FroCos can't wait to welcome you into our family!

Rita Wang

Hey! My name is Rita Wang. I use she/her/hers pronouns and identify as Queer. I'm from the multiracial food mecca of Edison, New Jersey, which is 30 minutes away from New York City and is located on stolen Lenape Land. I also want to acknowledge that Yale is on stolen Quinnipiac land. I am a second generation Chinese American, and I have a younger brother in high school. My dad lives in Hangzhou, China and my mom lives in New Jersey with my brother. I'm studying Philosophy and Women's, Gender, and Sexuality Studies, and I also did Directed Studies (so feel free to share your #DSstruggle with me, because I totally feel). This summer, I'm working in Oakland Chinatown in California organizing elderly Chinese immigrants around the issues of gentrification and tenant's rights.  On campus, you can find me debating with the Yale Political Union (I was Speaker and am in the Party of the Left), napping in the Yale Women's Center, and snacking at the Asian American Cultural Center. On the weekends, I also teach immigrant history at a local Chinese school. I'm so excited to meet you and seeing what kind of community we build together.

Jalen Ware-Parks

Hey y'all, I'm Jalen (he, him, his). I grew up in Flint, MI, the younger of 2 children and my sister is my BFF. I'm a Religious Studies and Political Science double major. The most important thing you need to know about me is that I love food (I literally eat for everything) especially tacos. When I'm not stuffing my face, you can find me at the Af-Am House, working in the Yale College Dean's Office, or meandering around campus. I'm anxiously awaiting the adventure of this year and being a MoCoFroCo and getting know all of you. 

Annique Wong 

(Head FroCo)

Hi everyone! My name is Annique (she/her/hers) and I am a double major in Anthropology and Statistics & Data Science from New York City. I love all things related to Morse (the best residential college), and in the past three years served on the Morse College Council (MCC), first as the Student Activity Chair and later as President, was a member of the Housing Committee, and am a huge proponent of our IM broomball team. I dedicate much of my time to Dimensions, an organization I founded to empower women and gender minorities in math, and Ramona, the Yale Women's Ultimate Frisbee Team. I am also a STEM Education Fellow for the Center for Teaching and Learning, and am implementing curriculum change in the math department to include conversations about STEM inclusivity and diversity. On the weekends, you can find me exploring New Haven, baking in the Morse kitchen with my lineage in Kappa Kappa Gamma, or running on the trails of East Rock.