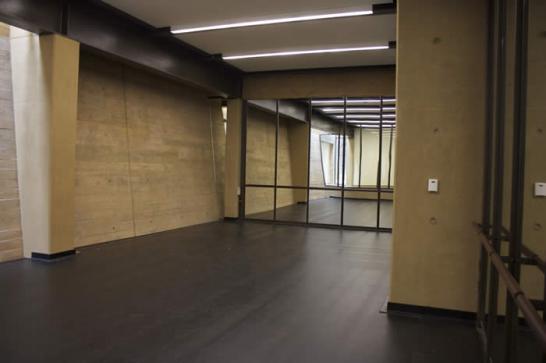 From modern dance to ballroom to classical Indian bharatanatyam, the Crescent Underground Dance and Aerobics Studio was designed with all types of dance in mind.  This beautiful space has been fondly dubbed "the fish bowl" due to the wall of windows allowing passersby to glimpse in.  Sky lights allow natural light to stream into the studio, which, when paired with the 15-foot tall mirrors and windows, makes for a light and open space.  And it wouldn't be in Morse or Stiles if it didn't have a few weird angles, including sloped walls and triangular windows!
Please direct all dance studio requests to the Ezra Stiles Operations Manager, Marc Levenson (Phone: 203-432-8091).
To reserve the dance studio, first read the rules and regulations. Then drop by the Stiles Head of College's office with a filled out application.
Just want to drop in periodically? No problem. Just fill out the app for swipe access through the year. But remember when you drop in, respect any reservations that may come and use no street shoes.