David Gimbel
---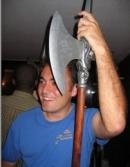 Dave Gimbel was born in Plantation, FL and graduated from Nova High School in 1999 as a National Merit Scholar and as an AP Scholar with 11 AP credits.  He graduated from Yale University in 2003, having been a member of the Varsity Golf Team, President of Morse College, a first-year counselor, and co-captain of two straight undefeated intramural ice hockey teams.  His undergraduate thesis produced second and third author papers in the Journal of Neuroscience detailing the role of the protein Nogo Receptor in Alzheimer's disease pathogenesis. 
     Dave graduated from Yale Medical School in 2010 having won the William U. Gardener prize awarded for the most outstanding thesis in the graduating class.  David spent two years in the laboratory of Stephen Strittmatter funded by an NIHT32 grant and a Yale-specific grant.  During this time he researched the pathologic interaction of cellular Prion Protein with AB oligomers in Alzheimer's disease.  The crux of his work has been published in articles in Nature and the Journal of Neuroscience.  Along with the other investigators, Dave is part owner of a patent on cellular Prion Protein as a drug target for Alzheimer's disease therapeutics.
     Currently, Dave is in his fifth year of Neurosurgery Residency at Yale-New Haven Hospital.  Dave is currently working with Dr. Michael Diluna on a program in which patients with pediatric brain tumors at YNHH are adopted by Yale Varsity Sports teams.  Thus far patients have been successfully adopted by the women's hockey, basketball, gymnastics, and softball teams as well as men's basketball.