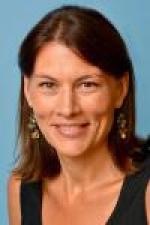 We are delighted by the appointment of Ms. Angela Gleason as Dean of Morse College!
Ms. Gleason earned her B.A. in Philosophy and History from Saint Joseph's College; her M.Phil in Medieval History from Trinity College, University of Dublin; and her Ph.D. in History, also from Trinity College. Ms. Gleason is a lecturer in the History Department, and her academic research focuses on early medieval legal and social history, as well as modern sports history. She has spoken and written widely on medieval law and sport.
For the past seven years, Ms. Gleason has had extensive experience working with Yale undergraduates. She was formerly the Assistant Director of the Center for Language Study, where she directed a number of programs designed to support foreign language study. As a former residential fellow of Old Campus and Swing Space, and former Davenport College fellow, she has lived and worked among Yale College students, supporting them by organizing events, workshops, and volunteer opportunities. And as an advisory board member of the Native American Cultural Center, Ms. Gleason has co-founded and directed the Native American Language Project, providing instruction in Native American languages to the community. She has also served on the Faculty Committee on Athletics.
Ms. Gleason, an eleventh-generation Mainer much drawn to water in all its forms, including snow and ice, has long identified with walruses and very much looks forward to joining the kindred Morse community. She is happiest outside and enjoys all sports and games, both as participant and spectator. (In the spirit of full disclosure, she proudly acknowledges being a lifelong fan of the Red Sox, for whom she was a paid speech writer in 2009.) She has recently developed an interest in pétanque and hopes to start a pétanque club at Yale. She is an equally avid traveler; she spent a dozen years after college studying, working, and traveling through Europe. And when she is at home, indoors, she is an adventurous baker widely known for her secret recipe of "whoopie pies," an enthusiastic player of all games and puzzles, and a determined if amateur musician. She is learning the ukulele.